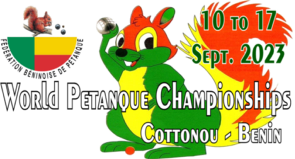 The president of the Beninese Federation of Petanque (FBP) Yaya Garba and members of his executive board went to see the level of progress of the construction of the Avlékété bowling alley. Which will host the 50th World Championship of Petanque in September 2023. It was Friday, January 20, 2023...
To witness the effective start of the construction of the boulodrome which will host the next world petanque championship in Benin. This is the objective of the FBP with its president Yaya Garba at the site last Friday. Once on the site, President Yaya Garba was given a tour of the jewel under construction and met two occupants who are still on the ground. He took note of their concerns and assured to contribute to effective and efficient solutions. "We note with efficiency that the government is already doing a lot by compensating almost all the residents except two who are still on the ground. This will be done shortly. We believe that it is at the level of the ANDF that the files of the two people are still blocked. The company is ready to work and is simply waiting for the last two residents to be compensated before starting the work," said President Yaya Garba, who acknowledged that the area is vast. According to him, the government has taken the measure of things. "As you know, President Talon does not do things by halves. And we had the opportunity, if only because of the area that is planned to house the facilities. We will have a jewel by then," he reassured. "Really the company is ready for the work. If all goes well and we manage to release the compensation of the two remaining out of the thousands they were, the contractual deadline will be met," he added, adding that the company has promised to work day and night to stay within the deadline. Finally, the president Yaya Garba confirmed that the festival will take place. "The actors at the grassroots want to know if the festival will take place, I confirm. I think that in 6 months, if we return to the place, it will be a beautiful place for a beautiful party," concluded the president of the FBP.
Matin Libre A.F.S. editorial staff
Note: a website https://mondial-petanque-benin.fipjp.com is online and will keep you informed of the progress of the organisation of the World Championships in Benin.